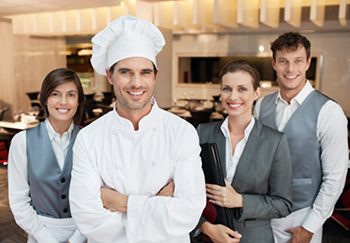 This section provides access to video interviews with entrepreneurs/company managers/marketing experts of companies operating in the Tourism and Eno-Gastronomy sector.
SWOT Interview - Sofia professional highschool of tourism - Bulgaria
Thematic area
The mission, services and products offered
Name of the entrepreneur
Antoaneta Djoneva
Name of the company
Sofia Professional High School of Tourism
Company typology
Eno-Gastronomy and local products
Country
Bulgaria
Main Contents of the Video Lesson
The video presents the director of the Sofia Professional High School of Tourism. The school provides vocational training programs of five or six years' duration. Students enroll at the age of 15 after basic education (for five-year programs) or after grade seven at the age of 14 (for six-year programs), after passing entrance exams for six-year programs.
The high school was established in 1951 and for more than half a century now a lot of professionals working in the tourist industry received their education and training here.There are 29 classes each school year with more than 900 students in 3 professional fields:
Hotel services,
Restaurant industry and catering
Receptionist in a hotel
Hotelier
Restaurateur
Catering
Chef
Bartender
Travel, tourism and leisure time
Tour Guide
Management and administration
Company Manager
This video shows how the education process in the school is organized - what knowledge and skills people working in this industry must have, what competences and in what way these are evaluated by the business. The video can be used from the trainers to show to students how proper professional education can increase their employabality and why the good professional qualification is highly valued from the companies working in the sector.